5 effortless ways to keep lean muscle and strong bones
Keeping your muscles and bones strong is key to lifelong independence, weight loss, and being able to live a healthy, active life…
Instead of letting your body deteriorate like so many people do as they get older. However…
I know that as your schedule gets busy and time goes by, it can get hard to find time to keep your body in shape…
Which is why I want to give you 5 effortless ways to maintain lean muscles and bones that don't involve hitting the gym or starting any kind of strenuous workout plan.
1. Sit down, stand up
Guess what the #1 predictor of independence is for a woman in her 90s…
Strong thighs.
The reason? Well, strong thighs help you get out of chairs, climb stairs, and get around.
A simple way to boost thigh strength is to use a simple "chair exercise":
Slowly sit down on the chair and then stand back up without using your hands to push you out of your seat.
Repeat this 10 times, 3x per day.
2. Make guacamole dip
According to research from Ohio State University, eating four avocados a week can help prevent muscle breakdown — and can cut your risk of bone fractures by 35%…
That's because the plant fats in avocados speed the repair of worn and aging muscles and increase the production of the bone-building hormone osteocalcin.
Dip vegetables like carrots, broccoli, or even cucumbers into your guacamole dip. And if you want a chip option, my favorite is organic pita chips.
3. Rake up weed trimmings
Just 10 minutes of resistance exercise daily can prevent bone thinning and increase your muscle strength by 48%…
Which makes you 5x more likely to stay active and independent as you age…
And researchers from Texas Tech University say lifestyle workouts like doing yard work, carrying grocery bags into the house, and other activities that involve lifting, moving, sweeping, or raking, are as effective as lifting weights.
4. Eat oatmeal
Oatmeal is high in bone supporting minerals like magnesium and manganese that can help cut your risk of breaks by 45%.
Oats are also high in calcium, copper, and zinc – which are found in your bones and are essential for keeping them strong and healthy. In fact…
Simply having more copper, zinc and magnesium means that your bones are better able to absorb calcium, leading to even better bone health.
Just eat one cup of oatmeal a day to get the minerals you need.
5. Bask in the sun
Getting 20-minutes of sun per day cuts bone and muscle loss by 33%…
And will give you the stamina to do chores 30% longer according to research from Cornell University.
The reason sun supports muscle and bone health is because your skin absorbs vitamin D from sunshine, which supports bone strength and muscle-building hormones to keep you strong and healthy.
So there you have it…
5 effortless ways to keep lean muscle and strong bones…
Try to fit at least one of these into your daily routine, and you'll keep your muscles and bones in great shape.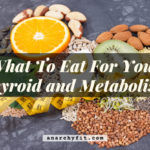 53% faster metabolism (eat THIS tomorrow) If you wish you had more energy and a